Walk in Cooler/ Freezer
Over 10 years we are manufacturing panels and doors for walk in Cooler/Freezer according to the customer specific dimensions.
Our Walk Ins are made of Polyurethane insulated panels.
Wall and ceiling panels comes with cam lock system.
Cool master is equipped with high flexible manufacturing systems to built custom box within the stipulated time.
Attributes:
Our camlock comes with gasketed fastener. Easy to install
Hinge Doors, Sliding Doors, Bi- Parting Door, Pallet door.
Exterior Ramp/ Interior Ramp available
Configurate box as Combo with different options.
Glass Door
Indoor/ Outdoor Refrigeration unit/ Penthouse unit
Dimension:
Thickness: 4" and 5" Available
Width and length can be customized as per the customer requirement.
Height- Maximum 24' (Camlock Panels) or Upto 50′ (Continous Panels)
Finishes:
White 26 Ga G-90 Pre paint Galvanized (Standard)
24 Ga Stainless steel
26 Ga Black Polyster
Floor:
Finish – 18 Ga G-90 Galvanized Steel (Standard), Stainless Steel available.
Reinforced floor available (¾" Plywood)
1/16",1/8",3/16",1/4" Aluminum Checker plate (Non slippery) available
Floor spacers for better ventilation.
Services:
Delivery and installation
Technical Support
After sale services
Outdoor Cooler/ Freezer
Outdoor coolers from Cool Master are in service all over Canada. With a flexible design, it can adjust and perfectly fit into any outdoor space. Our custom designed and crafted coolers and freezers ensure high performance with operational refrigeration, lighting and electrical system.
Key Features
Outdoor refrigeration system
Low ambient refrigeration control
Fully insulated panels and floors
Ready-to-run refrigeration unit
Single main electrical connection
Outdoor Walk-in Options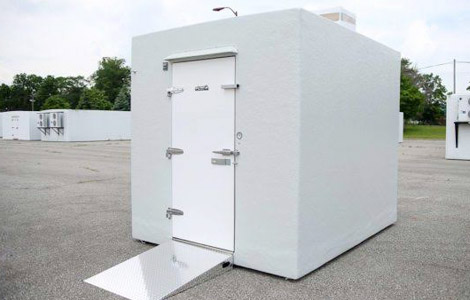 Custom sizes
A variety of color finishes
Numerous lighting choices
Various temperature holding
Ramps, both interior and exterior